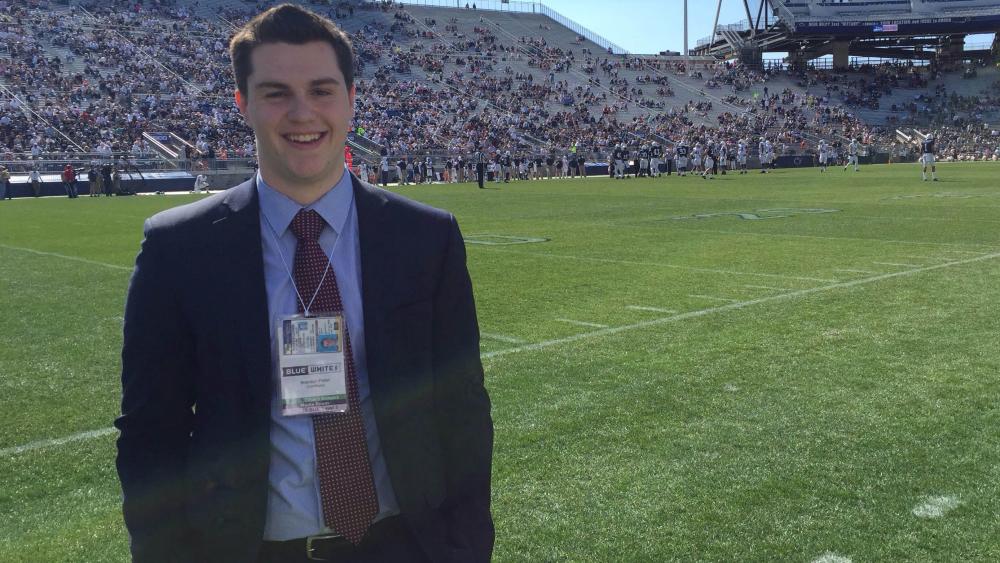 A broadcast journalism major seizes every opportunity as it comes
This is the 12th in a series of articles on summer internships for Donald P. Bellisario College of Communications students.
UNIVERSITY PARK, Pa. — They say champions are created in the offseason. It's a mantra that Brandon Pelter believes in and why, hours before game time, he's at the stadium studying stats and interviewing players so that tonight's game by game is better than the last.
The young broadcast journalism student is spending his summer in Massachusetts as a play-by-play announcer for the Yarmouth-Dennis Red Sox, the reigning Cape Cod Collegiate Summer Baseball League champions. For over a month now, Pelter has been calling Red Sox games from the stand. Thanks to his preparation, at the time of the first throw, he seamlessly shares precise statistics and observations with the fans who listen to him.
"No matter what Brandon is doing on the air…talk show, broadcast, play-by-by, analysis…he makes sure to spend time behind the scenes," said Penn State Sports broadcaster Brian Tripp. Network and former supervisor of Pelter. "He is dedicated and always ready to learn more about the craft."
Pelter regularly repeats the word "opportunity" when discussing his career. Like a strategic coach, he sees it at every turn. As a freshman at Donald P. Bellisario College of Communications, he joined CommRadio as soon as he arrived on campus. Within two weeks, he was broadcasting a Penn State men's football game live. He still has the game saved on his laptop, but a bit reluctant to listen to it.
"If I listened to it now, I would laugh at myself," Pelter said. "It was an eye-opening experience and made me realize that I still had a lot of work to do."
The opponent of the night added to the challenge of calling this game. The Nittany Lions were playing Loyola Marymount University, a team also called the Lions. "It tripped me up a lot," he said.
Since then, Pelter has convened numerous other Penn State sporting events, including football, basketball, and wrestling. Her work calling out women's soccer, softball, and wrestling has also been featured on the Big Ten Network's student productions, which airs student-produced events on the network's channel and mobile apps..
"Student U is a great program," Pelter said. "Not many students get the chance to do things for live TV. It really allowed me to work on my radio and television, and get a feel for both.
Highlights of his first two years at Penn State include play-by-play for the NCAA Wrestling Championships at New York's Madison Square Garden and the second half of the Big Ten Football Championship game in Indianapolis for CommRadio.
"It was amazing," Pelter said of Penn State's 21-point comeback in the game against Wisconsin. "Never have I seen such a crazy comeback."
But new situations and never-before-seen plays don't need to be on the biggest stage. Pelter said he sees something new in every game he covers. It's an unpredictability Tripp says sportscasters need to be prepared for — and a skill he's seen in Pelter from day one.
"There are so many pieces that come to you at an event. You have to see what's happening on the field, take what you've prepared and apply it to the situation," Tripp said. "You never know what's going to happen, so to be able to rely on recall, you have to be naturally gifted. You can practice and practice, but some people have it and that's what I see in Brandon.
Pelter doesn't know when his love for the sport began. He played and coached baseball while in high school in Somers, New York. Pelter's brother graduated from Penn State in 2012, and with great sports and a distinguished journalism program, the University caught his eye.
"It all started with CommRadio when I visited. From day one, I got involved," Pelter said. "I saw play-by-play as a unique and awesome opportunity to stay in the sport and make a living out of it."
With the Red Sox, Pelter saw an opportunity to be the live play-by-play announcer for a team for an entire season. Most major and minor league teams have full-time announcers, so having that role as an intern was very special. Best of all, the Red Sox are one of the most successful teams in Cape Cod League history and are playing for their league-record fourth consecutive championship this season.
"It's a very serious league," he said. "The players have a lot to prove and a lot of great prospects are coming up here. The players are on the radar of major league teams here.
Pelter likens the league to single-A baseball. Games are free and fans get to see young prospects on the verge of becoming stars. Red Sox alumni include major league stars Buster Posey, Craig Biggio and Justin Turner, among others.
"The players give their all and play hard," he said. On June 21, the Red Sox scored nine runs in the eighth inning to beat the Chatham Anglers, 11-8. Pelter was there to call the comeback. "It was a spectacular match," he said. "These guys are playing with something to prove."
Every time he steps behind the microphone, Pelter also has something to prove. Whether it's collegiate wrestling or summer league baseball, he wants to prove to his listeners that he's informed and ready for anything. With six games a week, Pelter spends around five to six hours preparing for each game. It says you can tell when the announcer is unprepared.
"It's easy to sit on the couch and listen and think, 'This job is easy,'" he said. "Yes, it's a dream job, but either you do it or you don't. … I try to do my best to be as prepared as possible and always put on a good show.