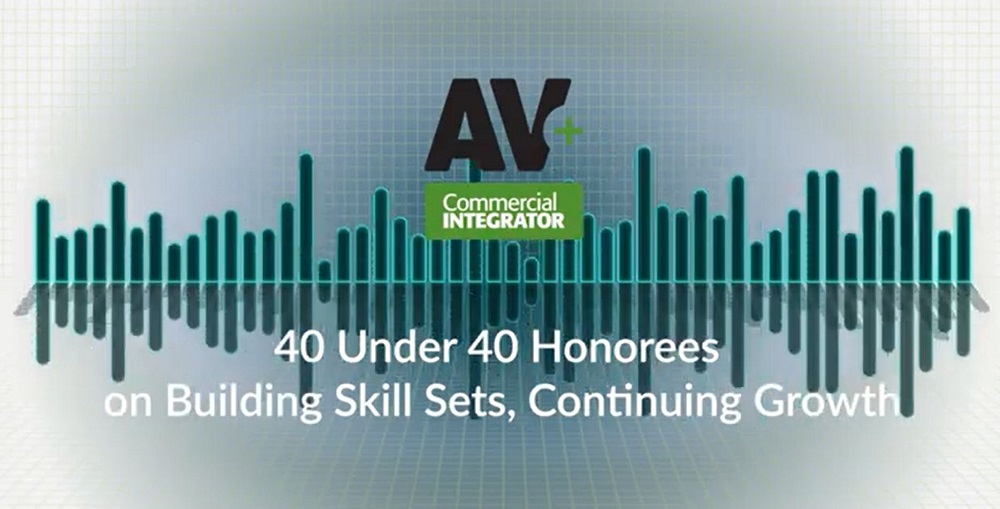 AV+ podcast: 40 influencers under 40 rewarded for developing their skills and continuing to grow
Listen to this podcast using the embedded player below.
On this episode of AV+
This AV+ podcast continues our series of discussions with our 40 influencers under 40, class of 2022. Business integrator editor-in-chief, Dan Ferrisi, welcomes Joe Dolce, sTerritory Senior Account Manager at Panasonic connection; Shannon Shamoon, gGlobal Head of Public Relations at Poly; and Jeffrey Frank, ssystem design engineer, Conference Technologies, Inc. (CTI), on the podcast. They discuss skill building and continued growth.
Top stories of the week:
Here's what's going on around Commercial Integrator this week:
Did you miss the webcast Keeping Projects Profitable in 2022? View it on demand. With supply chain issues, rising labor costs, and unprecedented unpredictability, integrators' tasks have become much more difficult. This webinar features NSCA CEO Chuck Wilson as well as prominent NSCA members Kyle Habben (Electronic Contracting Company) and Mat Hennings (Communications Engineering Company). They will offer tips to help you optimize your business and stay profitable.
THIS Integration award winners reflect a mix of jaw-dropping experiential excitement and hands-on technical features that enhance the business. Check out the list of 2022 Onboarding Award winners.
The 2022 Buyers Guide Category Index sorts vendors by types of products and services, while the A-Z Vendor List provides contact information for each of these businesses. Download a copy today!
The Commercial Integrator Podcast
The term "pro AV" doesn't do justice to the whole onboarding crowd, so we at Commercial Integrator wanted to create a professional AV podcast that covers all areas (and there are many!) under the umbrella of commercial technology integration.
The host, Commercial Integrator Editor-in-Chief Dan Ferrisi, looks forward to providing listeners with an entertaining and informative forum on all matters affecting the commercial audiovisual industry.
Do you prefer mobile? Find AV+ on iTunes