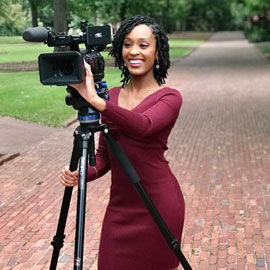 New graduate follows her path into audiovisual journalism – UofSC News & Events
[ad_1]
---
Posted on: December 12, 2019; Updated on: December 12, 2019
By Megan Sexton, [email protected], 803-777-1421
---
Dara Khaalid graduated from the University of South Carolina this month, ready to pursue a career in broadcast journalism. It's a path she started years earlier – when she was in fifth grade.
It was then that she finished a school assignment by creating her own talk show.
"My mom was the guest, my dad was the cameraman. My mother was (pretended to be) Maya Angelou and I interviewed her, "Khaalid says. "Then at Rock Hill High School I got involved in the journalism program and that kept the love going."
While a student at South Pointe High School, she won a videography competition and her journalism teacher took a few students to UofSC to attend an awards ceremony and explore the campus.
"I marked it in my mind as one of the places to go. My high school journalism teacher encouraged me to come here, "she says. "I fell in love with the experience. Everyone praised the journalism program, and they were right. I really see now that everything they said was true.
Khaalid spent her first two years of college at Midlands Tech before transferring to UofSC. She remembers being nervous in her early days on campus, but quickly discovered student organizations, including the National Association of Black Journalists, and met professors and staff who took her under their wing and connected her to the community.
"If I could give one piece of advice to other students, it would be, 'Don't be afraid to contact your teachers. Don't be afraid to express your dreams. You will see how willing people are to help. This is what surprised me. There were so many people rooting for me in J-school. I'm not alone. I may have refusals, but they're always there to cheer me up, "she says. "Find your support system, find a good group to help you through these difficult days. "
She is in the process of applying for reporting positions on TV stations, with the ultimate goal of hosting or hosting a morning news show.
This fall, Khaalid was part of the "upper semester" of the School of Journalism and Mass Communication – the wrap-up program for broadcast and journalism majors. Students in the upper semester produce, report and host a daily news program and write articles for the website.
Khaalid also worked as a digital content producer at WACH Fox over the weekends, after spending last summer as an intern at the station. She said the two experiences helped him improve his writing and reporting skills, and gave him insight into the types of stories he is interested in telling.
"I want to try to tell stories about people who are not very well recognized – women, people of color, impoverished people," she says. "My teachers taught me how to tell these stories better – with research, statistics, and the discovery of the human element."
---
Share this story! Let your friends on your social network know what you read
---
Topics: Students, Alumni, Academics, Undergraduate Admissions, Careers, Student Voices, College of Information and Communications
[ad_2]