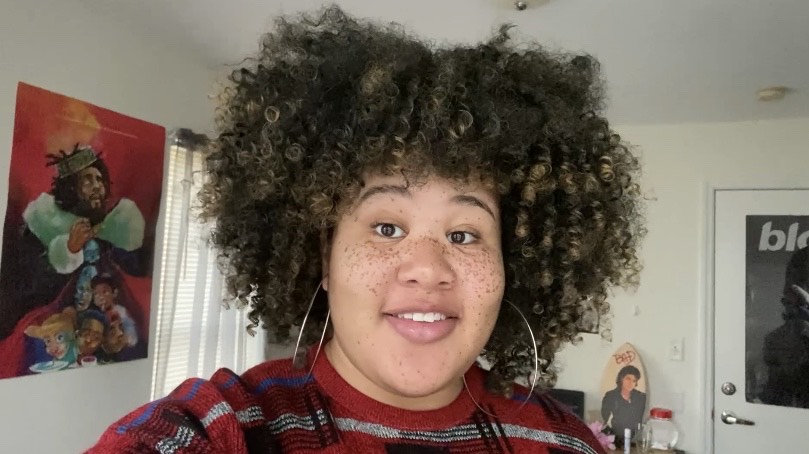 'Their story matters': How Illinois broadcast journalism students are reporting on COVID-19
One of Kenya Williams' favorite classes is the broadcast journalism course she takes at the University of Illinois at Urbana-Champaign. That's why she was devastated when she realized all of her college classes would move online in an effort to contain the spread of COVID-19, the disease caused by the coronavirus.
Like many institutions across the country, the University of Illinois suspended face-to-face instruction last month. Moving from in-person classes to digital learning is easier for some classes than others, though.
Ken Erdey is Williams' teacher. He teaches broadcast journalism at the university and oversees a team of students who work on a weekly live morning show called "Good Morning Illini," similar to a student version of NBC's "The Today Show."
Under normal circumstances, students meet as a group on Mondays to prepare for their Friday live show. Throughout the week, student producers write transitions for the show and keep tabs on the latest news on campus. All pre-recorded segments must be filmed by the end of the day on Thursday, and students rehearse and shoot the live half-hour show on Friday morning. They also host the show on a rotating basis. The finished product, which is filmed in an on-campus studio, is broadcast on a local Comcast channel.
Erdey says he also posts the show on the class' YouTube and Facebook channel. This semester, he launched a new companion show called "Illini Sports Night" featuring interviews with select Big Ten athletes from the university.
But all that work was cut short when COVID-19 started spreading across the United States.
The students recorded one last studio episode of "Good Morning Illini" before spring break. It included a final segment which featured videos recorded by seniors explaining how much working on the show meant to them. The students gathered in groups in front of the camera for the final shot, and some wiped tears from their eyes.
Williams, a junior, was among the students during the last group shot. She says she loved being in front of the camera and had dreamed of working on the show.
"I thought, wow, I'm finally part of GMI like, for real and now I'm being taken away because of this virus," Williams says.
Erdey says he initially had no idea how he would complete a course based on hands-on learning and field reporting in a digital environment with students scattered across the state.
"If you stop and think about what a studio production course is, you're in the studio with live events. So we have guests. We have cameramen. We have our anchors doing their job," Erdey says. "I couldn't see how to teach a studio live broadcast course, in an online format."
Other journalism programs across the country have struggled with the same problem. Mark Lodato, associate dean at Arizona State University's Cronkite School of Journalism and Mass Communication, says his students typically produce about a half hour of news for Arizona's PBS station each night.
"So there's an information juggernaut, so to speak, that's been disrupted," Lodato says. "What it does is it forces faculty members and students to get very creative and innovative and frankly, that's good."
Lodato says Cronkite School students are now creating video content using their cellphones while sheltering in their homes.
"Amazingly, we have students discovering creative ways to produce their visual works, and doing a lot of Zoom interviews, shooting stand-ups at home, doing weather reports in front of their TV screens, and finding out how to download the appropriate graphics and everything else. So we've seen a real increase in creativity in storytelling and presentation," he says.
Erdey, a professor at the University of Illinois, says he also had to get creative to ensure his class could survive the shift to digital learning. He spent his spring break building a website using YouTube tutorials and a template he bought online. Erdey previously worked as a photographer and editor for TV news stations throughout Illinois, but web design is entirely new to him.
"For the most part, I just don't understand this area of ​​technology and how to make it work," he says. "I was spending 12 hours a day sitting on my computer trying to figure out how to make this website, how to make it look professional?"
At the end of spring break, Erdey had a website, but he did not know what to make his students do. He found inspiration online.
"This video appeared on my feed at some point… it was from the Italians when they had been in quarantine for 10 days. And it's just people telling each other their stories 10 days later, and I was like, you know, maybe I can do something with that," he says.
Erdey asked his students to drop vlogs – video diaries – wherever they are and then post them on the website. He says the goal was for students to report on how the pandemic had affected their lives.
He says Williams, in particular, had an important story to tell. Although she is from Chicago, Williams currently lives and works in Champaign. For her first vlog, she chose to list the things that had taken an unexpected turn in her life due to the virus.
"At the beginning, I didn't have a computer… I admit that I went to the library (on campus) to use our resources, to use the computer. So when they said we were going to move to online classes, I was like, well, I don't have a computer. So what am I going to do? So I had to use my old phone and use Zoom through my phone and things like that. So it was an unexpected turn.
Williams says she has since borrowed a spare computer from a friend. But when she recorded that initial vlog on her cellphone, she was unable to edit it and post it online. She sent her raw material to Connor Ciecko, another U of I junior and producer of the Good Morning Illini show. Like Williams, Ciecko loves working on Good Morning Illini, and despite the disruptions, he says he remained optimistic that they would continue to produce content in whatever form possible.
"We are in an incredibly unique situation. If you look at other courses, they can teach online so easily," Ciecko says. "Good Morning Illini is so rooted in being on the ground spanning campus and just being in this studio reporting on it that we had to completely rework that."
Ciecko sees a lot of advantages in the current situation. He says it has forced him to be versatile and develop skills that he believes will be invaluable to a future employer. Ciecko shoots his own vlogs from his parents' home in Western Springs, a suburb of Chicago.
"I film with my phone. Audio isn't fantastic, video isn't fantastic, lighting isn't fantastic. So I'm learning to work with those, to work around them, and to maintain the production value, and increase the production value of the things I produce," Ciecko says. He also hopes the work he and his peers create will be an important record of what this pandemic was like for students in Illinois.
Erdey, a professor at the U of I, says he made his students realize how important it is for them to tell their own stories during this time.
"It's a lesson in life at a historic moment. And living in a time or telling a story is the most important thing we can do. And their story matters. And they have done nothing but go ahead and present content that does everything I asked them to do and more. And that's pretty amazing.
window.fbAsyncInit = function() { FB.init({ appId: '2269864749914972', xfbml: true, version: 'v3.1' }); FB.AppEvents.logPageView(); }; (function(d, s, id){ var js, fjs = d.getElementsByTagName(s)[0]; if (d.getElementById(id)) {return;} js = d.createElement(s); js.id = id; js.src = "https://connect.facebook.net/en_US/sdk.js"; fjs.parentNode.insertBefore(js, fjs); }(document, 'script', 'facebook-jssdk'));